INTERVENTIONAL CARDIOLOGY | HEART CATHETER LABORATORY
Our Interventional Cardiology Unit treats cardiovascular diseases using invasive diagnostics and procedures. The Heart Catheter Programme avails of three cardiac catheter labs, including a hybrid laboratory with cleanroom air, state-of-the-art imaging facilities, and a catheter laboratory, which is primarily used for electrophysiological interventions.
Our catheter laboratory, with a team of nine interventional cardiologists and specialized catheterization assistants, provides round-the-clock emergency cover, 365 days a year.
Therapy Options and Procedures
Invasive diagnostic tests for coronary arteries and heart valves
Full spectrum of techniques for percutaneous coronary intervention and implantation of stents (including pressure wire technology, intravascular imaging, rotablation and implantation of bioresorbable scaffolds)
Treatment of structural heart disease (atrial septal defects, patent foramen ovale occlusion, transfemoral aortic valve replacement, MitraClip)
Emergency care for patients suffering from heart attacks and cardiogenic shock, including the use of circulatory support systems (Impella microaxial pump)
Closure of the atrial canal in the event of atrial fibrillation to prevent stroke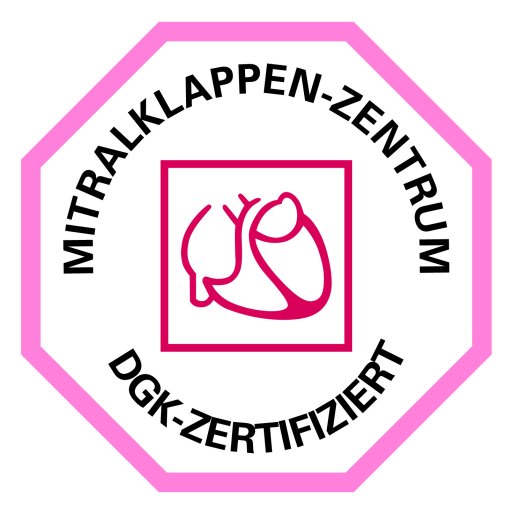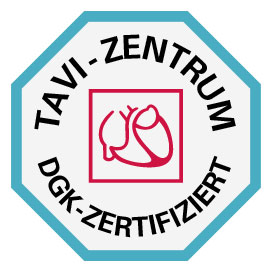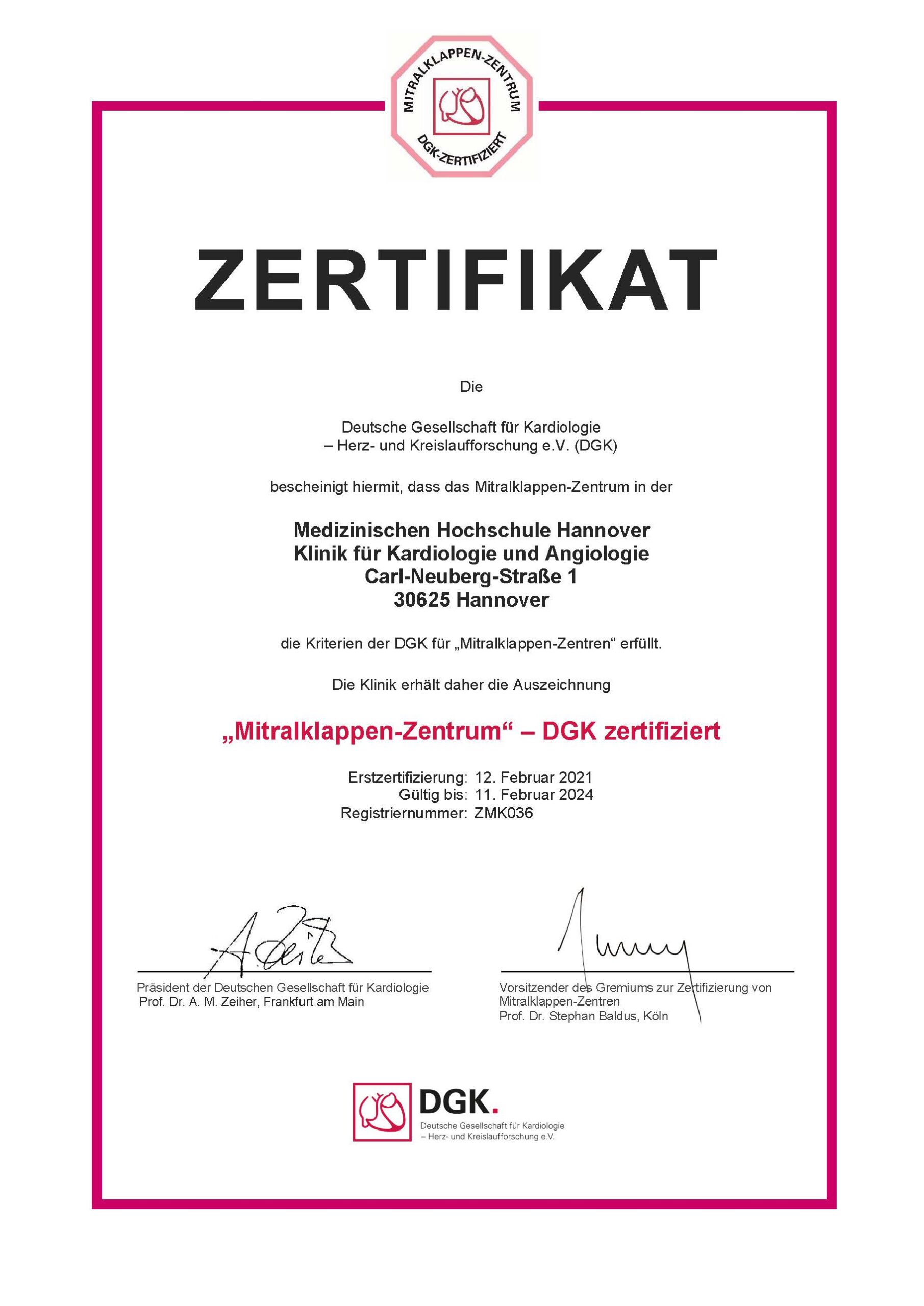 Titel
Zertifikat Mitralklappen-Zentrum
Zertifizierung durch:
Deutsche Gesellschaft für Kardiologie
Download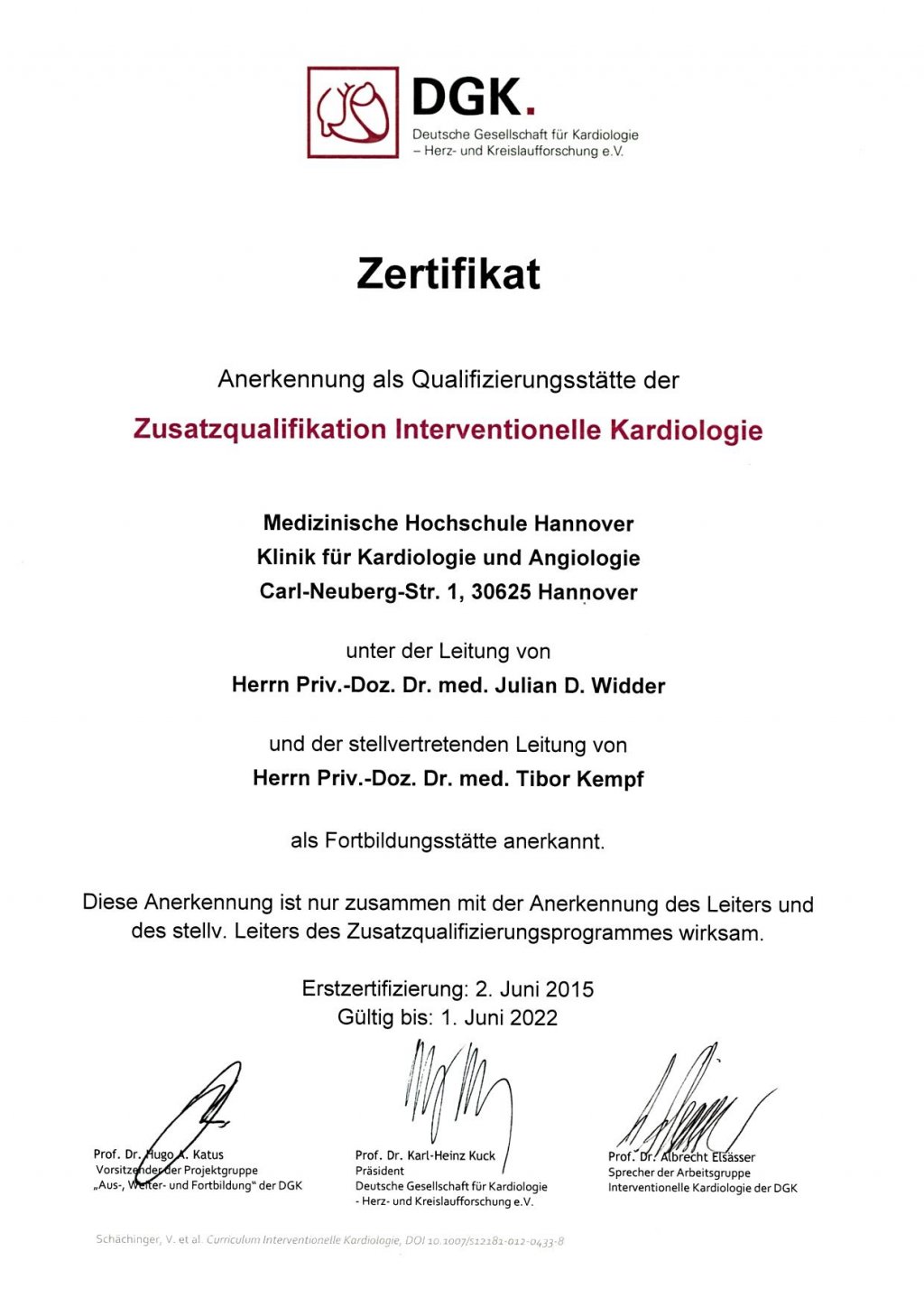 Titel
Zusatzqualifikation Interventionelle Kardiologie
Zertifizierung durch:
Deutsche Gesellschaft für Kardiologie
Download
Contact and appointments
Jessica Koch
Tel.: +49 511-532-6626
Fax: +49511-532-3357
Silke Bartling
Tel.: +49 511-532-6627
Fax: +49511-532-3357
Xenia Müller
Tel.: +49 511-532-82604
Fax: +49511-532-5412